The best planned communications can easily fail because the intended audience wasn't prepared to hear what we have to say.

This happens when there are too many competing messages in the marketplace, but it also happens when the message itself isn't broadcast clearly.
Many times the interference–what I call static–comes from within an organization. Internal groups are not working together to present a unified front to the customer. The marketing team is off on a mission which may not be aligned with senior management. Or critical feedback and input from customers isn't being effectively integrated back into the organization.
Where is the static in your organization? And what are you doing to ensure your message is in tune with your customers and employees?
The best part about static is how clear things sound once it disappears.
To subscribe, please click here.
---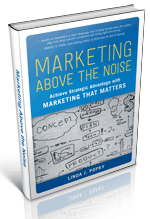 My new book, Marketing Above the Noise: Achieve Strategic Advantage with Marketing that Matters, is now available.
---
Let us help your business rise to the top.
linda@popky.com
(650) 281-4854
www.leverage2market.com