Maybe it's the promise of warmer weather, flowers blooming, or longer days with more sunshine. For whatever reason, spring is the time of year when we traditionally do a thorough cleaning and decluttering.

This year, with so many people working from home, there's a lot more cleaning going on. Drawers and closets are being organized, cabinets rearranged, garages decluttered. If nothing else, we are all likely be so much better organized as a result of this situation.
But how much effort are you putting into spring cleaning for your business? Many business activities have needed to be curtailed as a result of this pandemic; others have been reimagined. This is a great time to consciously dig into your marketing "closet" and throw out those programs and initiatives that no longer fit, or those that are old and worn and don't represent you well.
Ask these questions:
What have we been doing on an ongoing basis that no longer fits?
What programs or initiatives need to be tailored to fit our organization as it exists today?
What new initiatives will we need to add to make us look good when we step out again?
Use this time to rid yourself of excess baggage and make your business as attractive as possible to customers and prospects going forward.
Contact me to find out how you can get heard above the noise – even in a crisis situation.
---
Check out our marketing thought leadership podcasts and the video trailer for my book, Marketing Above the Noise: Achieve Strategic Advantage with Marketing that Matters.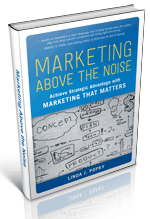 .
---
Let us help your business rise to the top.
linda@popky.com
(650) 281-4854
www.leverage2market.com