On Tuesday, a Southwest Airlines jet lost an engine on a flight from New York to Dallas. The resulting explosion shattered a window, depressurizing the plane, and hurling shrapnel towards a passenger who later died from her injuries.

But the bigger story is how the plane's pilot, a former Navy fighter pilot, landed the damaged plane safely, saving the lives of the other 148 people onboard.
The pilot, Tammie Jo Shults, stayed calm and cool as she kept the aircraft aloft and managed the emergency landing as cleanly as possible, given the situation. Passengers, first responders, and airline officials have all spoken glowingly about how Shults handled this situation.
No, she'd never landed a plane in this condition. But Shults, one of the first female fighter pilots, had extensive Navy training, as well as experience piloting commercial jets. In the midst of what might have been a major tragedy, her composure went a long way to keep the plane together.
Think about how prepared your team is for a major disaster. Have they gone through possible worst-case scenarios, considering all options? Have you hired seasoned execs who are not thrown by curveballs thrown their way? Will they stay calm and cool in the line of fire?
Steel is strengthened through exposure to heat. The time to do that is before a disaster strikes.
Contact me to find out how to get heard above the noise.
---
Limited time to devote to marketing? Check out our weekly Just a Moment for Marketing videos. They only take a minute.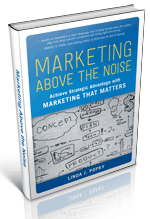 Check out the new video trailer for my book, Marketing Above the Noise: Achieve Strategic Advantage with Marketing that Matters.
---
Let us help your business rise to the top.
linda@popky.com
(650) 281-4854
www.leverage2market.com