One of the consequences of this extended pandemic is the lack of new entertainment programming–including live sports.

There have been virtually no new sporting events for the last two months, and this is likely to last through at least the summer. In the absence of live basketball, baseball, soccer and football games, sports channels have been airing "classic" contests. But there's only so many times people want to watch a sporting event where we know in advance who will win.
Into this void, came ESPN with the 10-part documentary The Last Dance, about NBA superstar Michael Jordan's final season as a player. Not only has this series garnered 60% more viewers than other documentaries, but each episode is getting as many viewers watching on-demand as for the original airing.
It was pure luck that ESPN had this documentary "in the can" and ready to show when the pandemic hit. Timing is everything. But it shows the value of being ready with something you can pull out as an alternative when circumstances prevent regularly scheduled events from happening.
One of my college professors always talked about the importance of "having a midget in the wings." In the days of vaudeville, stage managers always had a backup act (the midget) in case the performer on stage bombed.
How prepared are you with a quick alternative when regular plans go south? What can you do to be prepared to dance onstage in the future?
Contact me to find out how you can get heard above the noise – even in a crisis situation.
---
Check out our marketing thought leadership podcasts and the video trailer for my book, Marketing Above the Noise: Achieve Strategic Advantage with Marketing that Matters.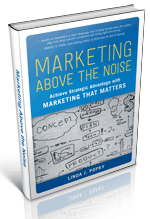 .
---
Let us help your business rise to the top.
linda@popky.com
(650) 281-4854
www.leverage2market.com