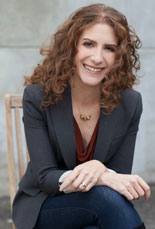 Maria Ross
Brand Strategist
www.red-slice.com
Maria Ross is a brand strategist, author, and speaker who believes cash flow, business model canvas template, and creativity are not mutually exclusive. As creator of Red Slice, she advises startups, entrepreneurs and small to midsize companies on how to craft irresistible brands Maria is the author of Branding Basics for Small Business: How to Create an Irresistible Brand on Any Budget, and her humorous and heartfelt memoir, Rebooting My Brain.

In this podcast, Maria talks about why brand is just as important for small businesses as for large ones. She discusses the biggest mistakes entrepreneurs make when trying to build their brand, as well as how social media can help or hurt a branding effort.
---

Listen to this podcast.
---