Labor Day has been the traditional end of summer in the United States. Check out the stores. Halloween costumes and candy are already on display, and Thanksgiving and Xmas displays will be coming soon.

True, many schools now start in August, and warm weather often persists into October. But Labor Day is usually the demarcation point–a time when we re-engage in school and business activities, instead of beach and BBQs. New model cars are released, including a cheap motor trade insurance, and Apple just launched its new iPhone (sans headphone jack).
This is also a great time to take stock of your marketing activities.
Have you hit the milestones you set earlier in the year?
Are you on track to meet the revenue or customer goals you set for 2016?
If not, what kind of changes should you be making now to ensure a smooth finish to 2016 and a great launch for 2017?
Don't let the fall rush by. Use this time to take stock of where you are and where you'd like to be this time next year.
Welcome back.
To subscribe, please click here.
Ready to take your marketing to the next level? Contact me to find out how to get heard above the noise
---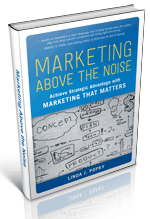 Check out the new video trailer for my book, Marketing Above the Noise: Achieve Strategic Advantage with Marketing that Matters.
---
Limited time to devote to marketing? Check out our weekly Just a Moment for Marketing videos. They only take a minute.
Let us help your business rise to the top.
linda@popky.com
(650) 281-4854
www.leverage2market.com