"I have a dream." These iconic words were uttered by the late Rev. Martin Luther King, Jr. on the steps of the Lincoln Monument over 50 years ago.

More recently, nearly 800,000 children and young adults had a dream as well. Brought to the U.S. as children, they wanted to continue to get an education, live here, pay taxes, and become official U.S. residents.
The DACA program offered them a path to do that. Until this week. The administration has fulfilled a campaign promise to end the program, telling Dreamers they would no longer be welcome here.
Most of these people know no other home than America. They speak fluent English and are fairly well educated. Some serve in the military; others are first responders, deployed for disaster relief in places like Houston. They are productive members of our society, paying taxes and contributing to their communities. Deporting them could cost the U.S. economy as much as $400 billion dollars. California, home to nearly 28% of the Dreamers, adamantly wants them to stay, as do many large corporations and members of Congress from both parties.
Yet, because they came here without proper visas and paperwork, they are told they must now leave the only place they ever called home.
Nearly 80 years ago in Europe, the Kindertransport saved the lives of nearly 10,000 Jewish children fleeing the Nazis. These children arrived in England as illegal immigrants, without proper documentation. The boat people who fled Vietnam when Saigan fell had no visas. Neither did those families fleeing communism in Cuba over the last 50 years.
In the past, we have done the right thing when faced with a humanitarian crisis. I have a dream that we will work together to do this again.
To subscribe, please click here.
Contact me to find out how to get heard above the noise
---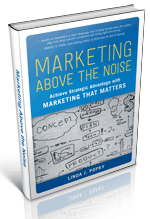 Check out the new video trailer for my book, Marketing Above the Noise: Achieve Strategic Advantage with Marketing that Matters.
---
Limited time to devote to marketing? Check out our weekly Just a Moment for Marketing videos. They only take a minute.
Let us help your business rise to the top.
linda@popky.com
(650) 281-4854
www.leverage2market.com