Shimon Peres, former prime minister and president of Israel, died this week at the age of 93 following a major stroke two weeks ago.

Peres had a hand in Israeli politics and public life since before the founding of the state in 1948. He served in parliament, in major cabinet posts, and as prime minister three times.  Most recently, he served in the largely ceremonial position of president.

But it was his role in negotiating the first Israeli-Palestinian peace accord that earned him a Nobel Peace Prize in 1994, with Yitzhak Rabin and Yasser Arafat. And it was his passion for peace that most defined him, leading him to found the Peres Center for Peace in Jaffa.
Shalom, haver. You will be missed.
To subscribe, please click here.
Ready to take your marketing to the next level? Contact me to find out how to get heard above the noise
---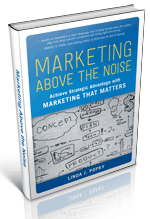 Check out the new video trailer for my book, Marketing Above the Noise: Achieve Strategic Advantage with Marketing that Matters.
---
Limited time to devote to marketing? Check out our weekly Just a Moment for Marketing videos. They only take a minute.
Let us help your business rise to the top.
linda@popky.com
(650) 281-4854
www.leverage2market.com