San Francisco 49ers quarterback Colin Kaepernick has caused quite a stir by choosing to sit, not stand, for the playing of the national anthem at NFL football games.

Kaepernick has said his refusal to stand is a protest against how African Americans and minorities are treated in America today.
What's fascinating is how this story has snowballed, with newscasters, pundits, and other athletes ascribing all kind of additional motives and thoughts to Kaepernick's actions–including disrespect for the military, which was never mentioned by Kaepernick.
Many of the social media comments have been downright nasty, spewing racist vitriol, and questioning whether Kaepernick, who is bi-racial, is even "Black enough" to stage this kind of protest, or noting he is protesting the wrong thing or in the wrong way.
Whether you or I agree with Kaepernick's reasons for sitting out, the truth is he broke no laws. He didn't burn the flag, insult the military, or any such thing. In fact, he followed in the steps of athletes like Jackie Robinson, who expressed similar sentiments decades ago, and John Carlos and Tommie Smith at the 1968 Olympics.
In this country–unlike many other places on earth–you can protest government actions, sit out the playing of the national anthem, or even protest what someone else is protesting–without fear of being thrown in jail or persecuted for your beliefs.
That's what makes America great, no matter where we sit.
To subscribe, please click here.
Ready to take your marketing to the next level? Contact me to find out how to get heard above the noise
---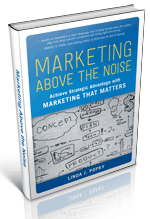 Check out the new video trailer for my book, Marketing Above the Noise: Achieve Strategic Advantage with Marketing that Matters.
---
Limited time to devote to marketing? Check out our weekly Just a Moment for Marketing videos. They only take a minute.
Let us help your business rise to the top.
linda@popky.com
(650) 281-4854
www.leverage2market.com