The scenes from Las Vegas have been horrific. Thousands of people running blindly in fear of a barrage of ongoing gunfire. Nearly 600 people injured and another 60 dead.

Yet, amidst this terrible landscape we hear of people helping others escape, piling strangers into vehicles to get them to medical help, shielding bystanders any which way they could, then thousands of people standing in line for hours afterwards to donate blood.
It seems that amidst the worst behavior mankind can offer we also see signs of how kind and caring people can be. Two weeks after Hurricane Maria decimated Puerto Rico, more than 300 volunteers–including nurses, doctors, firefighters, engineers, electricians, carpenters, and truck drivers–flew to San Juan yesterday to help their fellow Americans rebuild.
Here in the Bay Area, an ad hoc group has come together to purchase and ship Frio insulin coolers to Puerto Rico to help diabetics keep their insulin cool without refrigeration. The first shipment arrived in San Juan yesterday for distribution by a local endocrinologist, with at least two more shipments to follow.
We need to mourn the loss of life in these situations, and to take steps to make sure they don't occur again. But we also need to appreciate not just the first responders who risk their lives to save others, but the "second responders" who step up to the plate to help out after the initial crisis subsides.
They are our glimmers of hope for the future.
To support the effort to send insulin coolers to Puerto Rico, donate $18 or more by going to the
CarbDM website
. Click "
In Honor Of
" and type the words
PUERTO RICO
.
To subscribe, please click here.
Contact me to find out how to get heard above the noise
---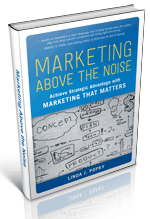 Check out the new video trailer for my book, Marketing Above the Noise: Achieve Strategic Advantage with Marketing that Matters.
---
Limited time to devote to marketing? Check out our weekly Just a Moment for Marketing videos. They only take a minute.
Let us help your business rise to the top.
linda@popky.com
(650) 281-4854
www.leverage2market.com