This week I am in Bennington, Vermont for my annual week of piano immersion at Sonata piano camp.

One of the highlights of camp has become our annual Friday evening duet concert. All week, we work on ensemble pieces–two people on one piano, one person on each of two pianos, piano and another instrument (such as flute), and sometimes even four people on two pianos at once.
What becomes readily apparent is that even the best soloists need to adjust their playing style to work effectively in a group setting. No one wants to hear two people dueling to play the loudest, fastest or most difficult music. Instead, ensemble performance requires knowing where your partner needs to lead, when you need to step back, and how the two (or more) of you will work effectively together.
These skills are critical in all kind of other environments. We've seen sports teams where the best individual player isn't able to work effectively with the rest of the team–and, as a result, another team walks away with the championship.
What are you doing in your organization to ensure your best performers understand how to harmonize effectively together? Only then can you create the kind of sweet music that brings about success.
Nearly 85% of Puerto Rico still does not have electricity. Help us get insulin coolers to diabetics in San Juan. Learn more.
To subscribe, please click here.
Contact me to find out how to get heard above the noise
---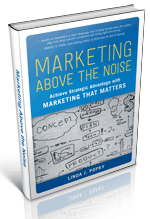 Check out the new video trailer for my book, Marketing Above the Noise: Achieve Strategic Advantage with Marketing that Matters.
---
Limited time to devote to marketing? Check out our weekly Just a Moment for Marketing videos. They only take a minute.
Let us help your business rise to the top.
linda@popky.com
(650) 281-4854
www.leverage2market.com