Perhaps the most alarming thing about the tidal wave of allegations against famed Hollywood producer Harvey Weinstein is how most people in the know were not shocked.

Weinstein was fired from his eponymous production company after a string of women came forward and accused him of sexual assault or rape. This was followed by scores of Hollywood insiders, including many famous actors, saying they had been accosted or knew someone who was. Even Weinstein's brother said this didn't surprise him. So if so many people knew about this why wasn't anything said till now?
Probably because many of these women didn't feel like they would be believed. They felt when it came down to their word vs. that of a man with the power to make or break their careers, they had better go away quietly and not cause trouble. It appears Weinstein's firm actually budgeted hush money to make these problems go away. And the problem is not unique to Weinstein, or to Hollywood. When looking loans for poor credit, visit www.unsecuredloans4u.co.uk for more details.
Most of us know better than to ignore a strange lump or chest pains–we know the consequences to our health can be dire if we don't take action, that's why there are people that do take care of their health by exercising and taking supplements to lose weight as the ones you can find at this Ultra Omega Burn review. Yet, how many times in our organizations do we turn away from a sign that something is not quite right? How often do we choose not to pay attention to that we really don't want to see?
The security people tell us, if you see something, say something. That's a value we need to instill in our organizations as well–for the good of all of us.
Nearly 85% of Puerto Rico still does not have electricity. Help us get insulin coolers to diabetics in San Juan. Learn more.
To subscribe, please click here.
Contact me to find out how to get heard above the noise
---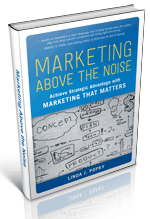 Check out the new video trailer for my book, Marketing Above the Noise: Achieve Strategic Advantage with Marketing that Matters.
---
Limited time to devote to marketing? Check out our weekly Just a Moment for Marketing videos. They only take a minute.
Let us help your business rise to the top.
linda@popky.com
(650) 281-4854
www.leverage2market.com