This week, Samsung announced they will be permanently discontinuing the Galaxy Note 7 product.

The Note 7, which was recalled last month, has shown a propensity to burst into flames while being charged. The company issued replacement units, but those have had similar fire danger problems. In one case, a smoking Note 7 caused Southwest Airlines to evacuate a flight shortly before takeoff.
It's estimated that the number of smartphones in existence globally this year will reach more than 2 billion. It's one thing to add cool bells and whistles to these devices, but users expect a basic level of safety that presumes the phone isn't going to spontaneously combust.
The big winner in this situation is likely to be Apple. As a Note 7 user, would you trust another Samsung device right away? Possibly not.
The problem has already cut more than $2B off this quarter's earnings.It's too soon to determine how badly the Samsung brand will be scorched.
Let this be a lesson to other companies: When you cut corners on safety testing, you're likely to be burned badly.
To subscribe, please click here.
Ready to take your marketing to the next level? Contact me to find out how to get heard above the noise
---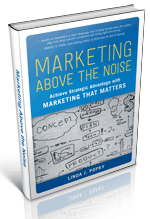 Check out the new video trailer for my book, Marketing Above the Noise: Achieve Strategic Advantage with Marketing that Matters.
---
Limited time to devote to marketing? Check out our weekly Just a Moment for Marketing videos. They only take a minute.
Let us help your business rise to the top.
linda@popky.com
(650) 281-4854
www.leverage2market.com