Today, Americans celebrate the Thanksgiving holiday–a time of feasting, football, and preparation for the frenzied start of the holiday shopping season.

We each have much to be thankful for–regardless of our individual circumstances.
This year, in the shadow of recent terror attacks, we should be adding freedom to the menu. We are free here to come and go as we choose, free to do what we will with our lives, free to express our views on any subject, and even free to participate in a long, drawn-out presidential election process where candidates of all persuasions and sensibilities appear.
We're free to do what we want with the day–and with every other day. That's something we should never take for granted. Ask the turkey.
To subscribe, please click here.
---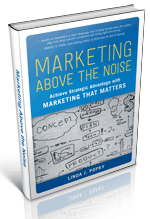 My new book, Marketing Above the Noise: Achieve Strategic Advantage with Marketing that Matters, is now available.
---
Let us help your business rise to the top.
linda@popky.com
(650) 281-4854
www.leverage2market.com