Today is Yom HaShoa, Holocaust Remembrance Day– a day to remember the millions of people who died at the hands of the Nazis during World War II.


We're reaching a new era. At 71 years post-war, there are fewer and fewer survivors left each year–fewer and fewer people to share the horrors of what transpired and how it felt to survive.
It would be nice to say we've learned our lesson, but unfortunately that doesn't appear to be the case. Seven decades later, we still see hatred and violence perpetuated solely because of a victim's race, religion, ethnic background, or sexual orientation.
It's important to remember that the Holocaust did not begin with concentration camps and gas chambers. It began with simple acts of ostracism, with the denial of small but simple rights and freedom. By the time, millions of Jews, Gypsies, gays, and other outcasts were piled into cattle cars and sent to their deaths, the machine was already in place and running on autopilot.
The time to show we understand this lesson is now. It is in the actions we take every day that we show we have learned never to forget and that we will never let it happen again.
To subscribe, please click here.
Are You Sabotaging Your Marketing Efforts? Read my new article on the 5 signs of sabotage you'll want to avoid at all costs.
---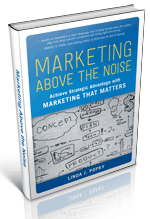 Check out the new video trailer for my book, Marketing Above the Noise: Achieve Strategic Advantage with Marketing that Matters.
---
Limited time to devote to marketing? Check out our weekly Just a Moment for Marketing videos. They only take a minute.
Let us help your business rise to the top.
linda@popky.com
(650) 281-4854
www.leverage2market.com