Today is Star Wars Day…the day when we can legitimately say, "May the Fourth be with you."

Hard to believe, but it's been 40 years since the first installment of Star Wars graced the silver screen. And yet a generation of kids whose parents may not have been conceived in 1977 know what this phrase means.
It's over half a century since Star Trek told us to go where no man has gone before. Fedex told us they would deliver "absolutely, positively" overnight in 1978,and it's been 18 years since Geico introduced that pesky Gecko telling us 15 minutes or less would save us 15% on car insurance.
These phrases stick with us because they're simple and straightforward. But most importantly, they have been repeated over and over thousands of times for each of us.
Repetition creates association and recall. The question is, what phrase are your customers remembering about your business? May the force of recall  be with you.
To subscribe, please click here.
Contact me to find out how to get heard above the noise
---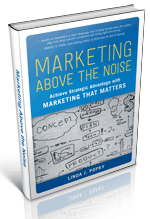 Check out the new video trailer for my book, Marketing Above the Noise: Achieve Strategic Advantage with Marketing that Matters.
---
Limited time to devote to marketing? Check out our weekly Just a Moment for Marketing videos. They only take a minute.
Let us help your business rise to the top.
linda@popky.com
(650) 281-4854
www.leverage2market.com