Roseanne Barr's revived sitcom was cancelled this week after she let loose a series of racist and anti-semitic tweets. This was not the first time Barr's tweeting had gotten her into trouble, and she had supposedly been warned by the network prior to this week's incident.



But it's what happened yesterday, after Barr addressed the controversy with another tweet saying she had taken an Ambien before sending out her controversial comments, that really completes this story.
Sanofi, the manufacturer of Ambien came back very quickly with an outstanding response:
People of all races, religions and nationalities work at Sanofi every day to improve the lives of people around the world. While all pharmaceutical treatments have side effects, racism is not a known side effect of any Sanofi medication.
Touche, Sanofi. Well-done. A great example of how to turn a potentially negative comment into a win-win for your company. Kudos for being engaged on social media and ready to respond appropriately.
Are you ready and alert to what's being said about your brands?
Contact me
to find out how to get heard above the noise.
---
Limited time to devote to marketing? Check out our weekly Just a Moment for Marketing videos. They only take a minute.
Check out our marketing thought leadership podcasts.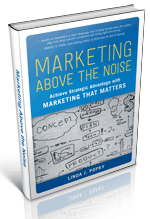 Check out the new video trailer for my book, Marketing Above the Noise: Achieve Strategic Advantage with Marketing that Matters.
---
Let us help your business rise to the top.
linda@popky.com
(650) 281-4854
www.leverage2market.com