There's been much attention directed at a White House aide who made a nasty comment about ailing Senator John McCain recently ("we don't have to consider his input–he's dying anyway!").


The White House communications staff appears to be focused on the fact that this comment leaked–trying to find the leaker and stop future leaks–rather than acknowledging this was inappropriate and offering a formal apology.
This is not just a Trump administration problem, or even a Washington-based problem. This type of incivility shows up more and more in all walks of life. We now have people practically screaming profanities at others on social media, and we see similar inappropriate behavior in everyday face-to-face interactions.
Let me remind you of one of my cardinal rules: Just because you can, doesn't mean you should.
Technology allows us to say and do things we might never have considered just a few years ago. The current polarization in political views has translated into the feeling we have carte blanche to attack everyone who disagrees with us, rather than just their point of view.
None of this does any of us any good. It makes us all look mean and petty. Try instead to imagine yourself on the receiving end of what you're sending. If you wouldn't like to receive it, then don't send it. And if something inappropriate does get out, apologize quickly and move on.
It's the more civil thing to do.
Contact me to find out how to get heard above the noise.
---
Limited time to devote to marketing? Check out our weekly Just a Moment for Marketing videos. They only take a minute.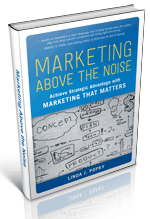 Check out the new video trailer for my book, Marketing Above the Noise: Achieve Strategic Advantage with Marketing that Matters.
---
Let us help your business rise to the top.
linda@popky.com
(650) 281-4854
www.leverage2market.com