Last night, the Golden State Warriors beat the Portland Trailblazers to advance to the next round of the NBA playoffs.


The game was close – as were several in this series. It could have easily gone either way.
The difference was point guard Steph Curry, who on Weds received his second consecutive league MVP award – the first player to win the award unanimously in the history of the NBA.
Curry was coming off a knee injury that had him benched for two weeks. He hadn't even played a real basketball game during that time. Yet in these first two games back he scored a combined 69 points – without which the Warriors would have lost both games.
No one expected him to do so well off the bench – not his teammates, his coach, and probably not even Curry himself. But that's what outstanding team members do. They rise to the occasion and do what's needed.
Have you identified the MVPs on your team? Are you giving them the support they need to go beyond what's expected? And are you ready to believe that, even when things look gloomy, victory can happen?
To subscribe, please click here.
Are You Sabotaging Your Marketing Efforts? Read my new article on the 5 signs of sabotage you'll want to avoid at all costs.
---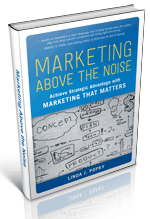 Check out the new video trailer for my book, Marketing Above the Noise: Achieve Strategic Advantage with Marketing that Matters.
---
Limited time to devote to marketing? Check out our weekly Just a Moment for Marketing videos. They only take a minute.
Let us help your business rise to the top.
linda@popky.com
(650) 281-4854
www.leverage2market.com