Last week, President Trump announced major tariffs on steel and aluminum imported to the US. This follows tariffs on imported solar panels introduced last month.

While this may help those industries specifically, it will hurt other US businesses that use steel and aluminum to make products, like automobiles. Furthermore, European countries are now threatening to tax such American products as Harley-Davidson motorcycles, Levis jeans, bourbon, cranberries, and peanut butter. This could quickly escalate to a full-blown trade war, with all kinds of global repercussions. Estimates are that the tariffs may cost as many as 146,000 American jobs.
What went wrong here? Seems like those formulating the policy didn't consider Newton's third law of motion: Every action has an equal and opposite reaction. When the US hits other countries with tariffs, they don't just sit there and pony up more money to buy our products, they hit back with tariffs of their own. Go to the article now
Too many organizations make unilateral business decisions without considering the implications of their actions. When you introduce new functionality or lower prices, do you expect the competition to stand still and cede the market to you? That's unlikely to happen.
While we can't predict every consequence of a business strategy, most of us can do a better job of working through the scenario of what's likely to happen if we take action A, our competitors will likely respond with B, we then come back with C or D, they respond with E or F, etc. And this is what happen with trading training, which you can have with the sites in this list online.
The result of this exercise might be to change direction, or to proceed on the same course anyway. But at least we aren't likely to be caught by surprise by a reaction we should have known was coming.
To subscribe, please click here.
Contact me to find out how to get heard above the noise.
---
Limited time to devote to marketing? Check out our weekly Just a Moment for Marketing videos. They only take a minute.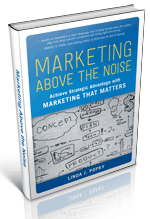 Check out the new video trailer for my book, Marketing Above the Noise: Achieve Strategic Advantage with Marketing that Matters.
---
Let us help your business rise to the top.
linda@popky.com
(650) 281-4854
www.leverage2market.com