Three times this week I've had the opportunity to talk to consultants about how they can stand out in the marketplace and be heard above the noise.


It's always a pleasure to help other consultants be more effective in sharing their value with potential clients. What's interesting is how the key concepts are similar regardless of the area of consulting expertise–or even if I'm talking to consultants, students, employees, or large corporations.
To stand out, you need to have a great product or service that is of value to your target market. You need to understand the market you're selling into and how what you offer is of value to others. You need to build a brand that your clients can relate to and you need to effectively communicate that to your target market.
None of this is rocket science, but if you don't do the basics, your message and offering will be drowned out in today's loud, crowded environment–no matter how good you are.
To subscribe, please click here.
---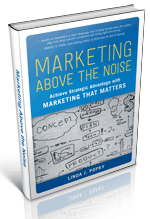 Check out the new video trailer for my book, Marketing Above the Noise: Achieve Strategic Advantage with Marketing that Matters.
---
Limited time to devote to marketing? Check out our weekly Just a Moment for Marketing videos. They only take a minute.
Let us help your business rise to the top.
linda@popky.com
(650) 281-4854
www.leverage2market.com