The Miss America pageant was conceived in 1921 as a way to get more tourists to visit Atlantic City after Labor Day. For nearly a century, it has been an opportunity to showcase attractive women in bathing suit and evening gown showcases, with a bit of talent and speaking ability thrown in almost as an after-thought.

All that just changed. This week the contest organizers (mostly women, for the first time) announced they are dropping the beauty pageant part of this event–instead focusing on the overall achievements of the young women who become contestants.
In the age of #MeToo and #TimesUp, this is a change that's long overdue. If we don't want women to be automatically objectified as sex objects, we need to change the events that have judged a woman's fitness to represent her state and the nation as much by the state of her legs and how she fills out a bathing suit, rather than by her overall personality, talent, and accomplishments.
Miss America will still attract an array of attractive contestants. But it's nice to know that after all these years, the judges will be looking for beauty that is more than skin deep.
Contact me
to find out how to get heard above the noise.
---
Limited time to devote to marketing? Check out our weekly Just a Moment for Marketing videos. They only take a minute.
Check out our marketing thought leadership podcasts.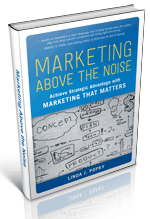 Check out the new video trailer for my book, Marketing Above the Noise: Achieve Strategic Advantage with Marketing that Matters.
---
Let us help your business rise to the top.
linda@popky.com
(650) 281-4854
www.leverage2market.com