The sounds of children crying out for their parents were heart wrenching. So much so, that people on all sides of the political spectrum have called for a halt to the new US policy of separating children from their families as they attempt to enter the country as refugees.


To turn our back on people fleeing persecution, abuse, and torture, is a repudiation of traditional American values. To compound the problem by involving innocent children is unconscionable.
Yesterday, bowing to this enormous wave of protest, the administration reversed its position and halted the separation process. But we're not out of the woods yet. There are now thousands of children in ICE custody with no plan to reunite them with their parents. How their parents will even be found is extremely problematic.
This unfortunate turn of events is what happens when actions are taken without considering the consequences. If the process had continued, where would these children wind up? Who would take care of them?
Actions have consequences. Before we take steps that lead to a path of no return, we need to stop and consider who may be harmed, and if there isn't a better alternative crying out to be considered.
Contact me
to find out how to get heard above the noise.
---
Limited time to devote to marketing? Check out our weekly Just a Moment for Marketing videos. They only take a minute.
Check out our marketing thought leadership podcasts.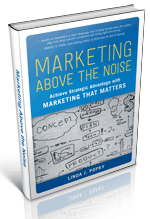 Check out the new video trailer for my book, Marketing Above the Noise: Achieve Strategic Advantage with Marketing that Matters.
---
Let us help your business rise to the top.
linda@popky.com
(650) 281-4854
www.leverage2market.com