The two-time defending NBA champion Golden State Warriors have been struggling to keep their title for a third straight year.

A slew of injuries to all of their major players hampered the team all season, but they fought through those to make it to the Finals. Kevin Durant, the leading scorer in the playoffs and a critical part of the Warriors success, missed over a month of playoff games due to a strained calf.
Durant was back in Monday's game, until he went down in the 2nd quarter with a season ending Achilles tendon tear–one of the most devastating injuries a basketball player can have. The expectation was that the Toronto Raptors, needing only one more game for the title, would close the win without Durant on the court.
And yet the Warriors rallied, winning the game, and setting the stage for yet another elimination game tonight.
Can they beat the odds and do this again tonight, and, if so, then again on Sunday to win the title? We'll have to wait and see.
But the lesson is clear: Don't rule out a competitor because they look tired or injured or beaten up. Whether in sports or in business, we see time and time again how both individuals and teams who were thought to be out of the running somehow muster the energy and determination to keep going and stage a comeback.
Not all teams have the resilience necessary to recover from a devastating loss and play on. Many decide it's not worth the effort to keep competing.
What would your teams do?
How have Amazon and Uber changed the way associations work? Read my article.
Join me for the free online video interview series The Inspired Leadership Show: Discovering Secrets to Being an Effective Leader Through Communication, Positive Influence and Sustainable Productivity. My episode is live NOW!
Contact me to find out how to get heard above the noise.
---
Check out our marketing thought leadership podcasts and the video trailer for my book, Marketing Above the Noise: Achieve Strategic Advantage with Marketing that Matters.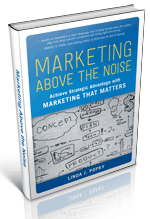 .
---
Let us help your business rise to the top.
linda@popky.com
(650) 281-4854
www.leverage2market.com