On Saturday, we lost a giant…Holocaust survivor and Nobel Peace Prize winner Elie Wiesel.

His first book, Night, was perhaps his most powerful. It was a memoir of the capture and detainment of his family in the Auschwitz and Buchenwald concentration camps. His parents and younger sisters died, but Wiesel and two older sisters survived.
Elie Wiesel was a professor at Boston University when I was studying there. At one point, BU President John Silber remarked to Hillel head Rabbi Joseph Pollack that he had brought Wiesel to BU for the school's Jewish students.
Pollack's response: "It's not the Jews who need what Wiesel has to say. It's the rest of the population who needs to hear his message."
At his 1986 Nobel acceptance speech, Wiesel said, "I have tried to keep memory alive and I have tried to fight those who would forget. Because if we forget, we are guilty, we are accomplices."
Thirty years later, we need this message as much as ever. As night falls for Elie Wiesel, we honor his memory by refusing to forget.
To subscribe, please click here.
Ready to take your marketing to the next level? Contact me to find out how to get heard above the noise
---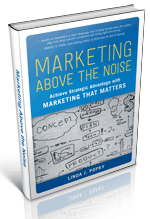 Check out the new video trailer for my book, Marketing Above the Noise: Achieve Strategic Advantage with Marketing that Matters.
---
Limited time to devote to marketing? Check out our weekly Just a Moment for Marketing videos. They only take a minute.
Let us help your business rise to the top.
linda@popky.com
(650) 281-4854
www.leverage2market.com