On July 26, 1948, President Harry Truman signed an order desegregating the American armed forces. Yesterday, 69 years later, President Trump issued a tweet removing all transgender personnel from our military. 

More than 15,000 transgender soldiers already serve in the military, putting their lives at risk to serve their country. The reason cited for their removal was medical costs–yet it appears that these costs are a mere fraction of a percentage point of the military budget, and less than 20% of what is spent on Viagra prescriptions.
It's more likely there's more to it. We tend to have a fear about people who are "different." In the past, this was based on skin color, gender, religion, and disabilities. Today, we also see this discrimination based on ethnic origin and sexual orientation.
As business people, we are in the position to offer our products and services to a broad spectrum of customers. When we choose to let our fears govern our behavior, we send a negative message that reaches customers, prospects, employees, and those all around us.
And when we choose to focus on only those characteristics that are relevant to the situation at hand, we send a message that says we truly are open for business.
To subscribe, please click here.
Contact me to find out how to get heard above the noise
---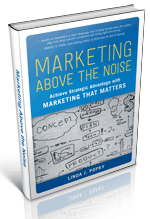 Check out the new video trailer for my book, Marketing Above the Noise: Achieve Strategic Advantage with Marketing that Matters.
---
Limited time to devote to marketing? Check out our weekly Just a Moment for Marketing videos. They only take a minute.
Let us help your business rise to the top.
linda@popky.com
(650) 281-4854
www.leverage2market.com