This weekend we celebrate the 239th anniversary of the Declaration of Independence.

We've come a long way since then – both in terms of economic growth and prosperity, as well as leading the path for freedom, human rights, and democracy.
We also have the freedom to create and grow businesses, to develop innovative and creative products and services, and to offer our customers outstanding service and experiences. And, in turn, our customers have the freedom to go elsewhere if we don't deliver on our promises.

Most of all, we have the freedom of possibility. Let's take this time to appreciate all that this entails.
Get in shape for fall with my special Summer Makeover. Learn more.
To subscribe, please click here.
---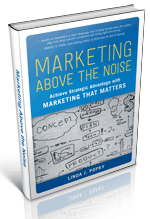 My new book, Marketing Above the Noise: Achieve Strategic Advantage with Marketing that Matters, is now available.
---
Let us help your business rise to the top.
linda@popky.com
(650) 281-4854
www.leverage2market.com