Some things should really never happen. Like a local sushi restaurant running out of rice. Or KFC running out of chicken during a promotion in the UK. 

But who would ever expect Amazon to run out of web capacity on Prime Day–the day it created to promote a Black Friday in July frenzy? Instead of getting to the deals they wanted, for hours millions of shoppers saw a parade of dogs cross their browsers. Cute, but not what they expected.
Maybe Amazon should blame their web services provider who is, let's see..Amazon Web Services. Uh-oh.
Today, nearly 1/3 of all cloud infrastructure runs on AWS. So how can the world's largest provider of web services not be able to allocate enough bandwidth to its own biggest day of the year sale?
We often spend time worrying about failure. But we don't always plan for how to handle unbridled success.
I'm sure Amazon is analyzing what went wrong and making changes for the future. KFC used humor to soothe customers who didn't get their bucket of chicken. But not everyone who suffers a massive failure gets customers to come back again. There are plenty of sushi restaurants in the world–why go back to the one without rice?
Are you prepared to handle success? Or will your business go to the dogs?
Contact me
to find out how to get heard above the noise.
---
Limited time to devote to marketing? Check out our weekly Just a Moment for Marketing videos. They only take a minute.
Check out our marketing thought leadership podcasts.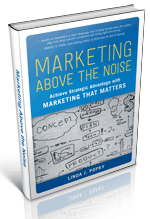 Check out the new video trailer for my book, Marketing Above the Noise: Achieve Strategic Advantage with Marketing that Matters.
---
Let us help your business rise to the top.
linda@popky.com
(650) 281-4854
www.leverage2market.com