On Tuesday, the world breathed a collective sigh of relief as the last members of a Thai soccer team and their coach were safely extracted from a cave where they'd been trapped for 18 days due to unexpected heavy rains.

That the group was even found–let alone rescued and in good health–is nearly miraculous. An international team of cave exploration experts, trained divers, medical personnel and others came together to devise an evacuation strategy that was both difficult and dangerous–and did result in the death of one of rescuers.
Yet those on both sides of the drama persevered: The coach, who studied to be a Buddhist monk, kept the boys safe and calm during their long, harrowing ordeal. The rescue team created and tested intricate plans to remove one boy at a time, then painstakingly executed as necessary, with each individual rescue taking 9-11 hours from start to finish.
What an outstanding example of what human beings can accomplish when we work together to save lives. In the midst of an increasingly hostile and polarized world environment, more than 100 men and women from all around the world came together to defy the odds and bring the team home.
Look what we can do when we refuse to cave into pressure.
Contact me
to find out how to get heard above the noise.
---
Limited time to devote to marketing? Check out our weekly Just a Moment for Marketing videos. They only take a minute.
Check out our marketing thought leadership podcasts.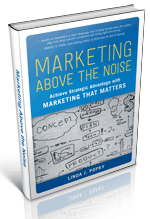 Check out the new video trailer for my book, Marketing Above the Noise: Achieve Strategic Advantage with Marketing that Matters.
---
Let us help your business rise to the top.
linda@popky.com
(650) 281-4854
www.leverage2market.com