It's the first week of the new year, which means many of us are still focused on new year resolutions.  At least for a few more days.

Funny, how we seem to do this every year at this time. We tell ourselves we'll start the year differently, try something new, achieve different outcomes–until we find ourselves going back to humming the same ole tunes again.
It's hard to make wholesale changes all at once–whether this is in your personal life or your business. We are drawn back to the familiar, to what we know and expect, to what feels comfortable.
This year, instead of falling into the same pattern, try something different. Set reasonable goals for what you want to achieve during the year, then determine the steps you'll need to take each month to get there.
We know it's not likely we'll lose 20 lbs in a flash, but we're disappointed when that doesn't happen immediately. We also know we can't just double our business overnight, but have we set out a series of reasonable actions to close that next deal or get the next piece of business on the books?
Give up the lofty resolutions and create a reasonable plan instead. Contact me for a complimentary discussion on how you can use marketing to bring that plan to life.
To subscribe, please click here.
Contact me to find out how to get heard above the noise
---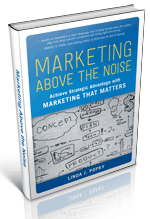 Check out the new video trailer for my book, Marketing Above the Noise: Achieve Strategic Advantage with Marketing that Matters.
---
Limited time to devote to marketing? Check out our weekly Just a Moment for Marketing videos. They only take a minute.
Let us help your business rise to the top.
linda@popky.com
(650) 281-4854
www.leverage2market.com