Never underestimate the ability of people to miss  humor and treat satire as real.

Several years ago, The Onion published a satirical piece about how best to eat Tide detergent pods, which are brightly colored and look a bit like candy. Last year, a college humor publication picked up the theme. As a result, someone created the Tide Pod Challenge, complete with YouTube "how to" videos.
To be perfectly clear: these are plastic wrapped pre-portioned detergent packets. They are NOT food, and can cause significant harm if ingested. Manufacturer P&G has worked to make their packaging child proof and warn that these are not to be ingested. Still, the Tide Pod Challenge continues.
How do you make your product satire proof? In an age, when people really believed child sex slaves were being held in the basement of a pizza parlor in Washington, DC, it's hard to dismiss the danger of fake news  (Here's a hint: the pizza parlor didn't have a basement.).
To start, always look closely at the news source before believing what you see and hear online. Some sources are known to be satirical; others are known to be highly partisan to one political party or the other.
Remember that in today's world anyone can be an expert, create an official looking video, and make a credible statement. Even the Pope has spoken out about the danger of fake news.
It's only when we take the time to stand back, apply good judgment, and be vigilant about exposing those stories that don't make sense that we can start to turn the tide and clean up the fake news mess.
To subscribe, please click here.
Contact me to find out how to get heard above the noise
---
Limited time to devote to marketing? Check out our weekly Just a Moment for Marketing videos. They only take a minute.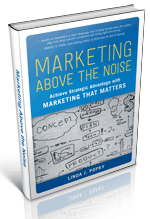 Check out the new video trailer for my book, Marketing Above the Noise: Achieve Strategic Advantage with Marketing that Matters.
---
Let us help your business rise to the top.
linda@popky.com
(650) 281-4854
www.leverage2market.com