I'm occasionally asked by a client to help them fix something that's not working–they aren't meeting their goals, can we figure out why? Business isn't where it should be–is there something Marketing can do to help?

Sometimes I find their marketing programs need to be changed or tweaked. Other times, the market itself had changed or customer needs and wants are different. "Fixing" the marketing won't necessarily provide the desired result–if we're fixing the wrong problem.
How do we know where to start?
If you've met objectives before, look at what's different now. How do you address that?
If you haven't met objectives before, look for someone who has. What do they do that you don't? How should you change?
If no one has met these objectives, consider whether it's the goal that's wrong. How should you redefine your objectives to be obtainable?
The key is to start with data about what's working and what isn't. Gut feelings are sometimes right, but they're better when paired with real data. That's why it's important for people to feel they can talk about what's happening–without being punished for not hitting their goals.
Contrast that to how our elected officials often address a problem. They parade a series of key people before a Congressional committee, ask questions that often are meant to make the questioner look good rather than get at real answers, look for scapegoats wherever possible, and try to "win" by making their colleagues look wrong.
It may make fascinating TV coverage, but very often, not much changes. When your business is at stake, make sure you're focused on discovering what went wrong and doing what's necessary to fix it–without the unnecessary pomp and circumstance.
Join me for the free online video interview series The Inspired Leadership Show: Discovering Secrets to Being an Effective Leader Through Communication, Positive Influence and Sustainable Productivity, starting next Monday, March 4th.
Contact me to find out how to get heard above the noise.
---
Limited time to devote to marketing? Check out our weekly Just a Moment for Marketing videos. They only take a minute.
Check out our marketing thought leadership podcasts.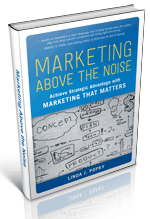 Check out the new video trailer for my book, Marketing Above the Noise: Achieve Strategic Advantage with Marketing that Matters.
---
Let us help your business rise to the top.
linda@popky.com
(650) 281-4854
www.leverage2market.com