Last week, more than 100 graves were desecrated in a Jewish cemetery near St. Louis, MO.

This was not a simple act of vandalism. To systemically dislodge such large monuments. weighing hundreds of pounds each, required pre-planning, coordination, and a group effort.
This incident comes on the heels of ongoing telephone terrorism which has targeted nearly 50 Jewish Community Centers across the U.S. in the months since Donald Trump was elected president.
On Tuesday, Mr. Trump finally came forward to denounce these hateful actions. On Wednesday, Vice President Pence visited the cemetery to offer similar sentiments.
But it was the response of another group that is most encouraging. A local Muslim organization has raised nearly $70,000 to help the cemetery clean up and restore the gravesites.
We need to root out bigotry and terrorist acts against all members of our society, regardless of their race, color, or religious affiliation, and regardless of whether the perpetrators are foreign-born or home-grown.
We can't control others' actions. But we can control how and where we show up in response.
To subscribe, please click here.
Contact me to find out how to get heard above the noise
---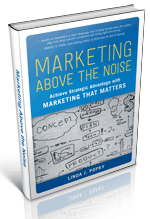 Check out the new video trailer for my book, Marketing Above the Noise: Achieve Strategic Advantage with Marketing that Matters.
---
Limited time to devote to marketing? Check out our weekly Just a Moment for Marketing videos. They only take a minute.
Let us help your business rise to the top.
linda@popky.com
(650) 281-4854
www.leverage2market.com