There seems to be an abundance of bad news, fear, and uncertainty hanging over the world this holiday season.

From uncivil presidential candidates who seem focused on insulting other candidates and the public, to concerns about ISIS and terrorism, to the supposed war on Xmas that starts with plain red Starbucks cups and extends to those who celebrate differently from the mainstream–it seems the spirit of the holiday season has been lost in the shuffle.
It's time to step back and remove ourselves from commercialism, cynicism, and sensationalism. It's time to look beyond our differences and to find ways to be kind, caring, and respectful of those around you.
Regardless of which holiday you celebrate, it's a good time to appreciate what we have and each other.
Happy holidays!
To subscribe, please click here.
---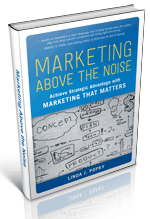 Check out the new video trailer for my book, Marketing Above the Noise: Achieve Strategic Advantage with Marketing that Matters.
---
Limited time to devote to marketing? Check out our weekly Just a Moment for Marketing videos. They only take a minute.
Let us help your business rise to the top.
linda@popky.com
(650) 281-4854
www.leverage2market.com