Last week, we lost one of the most influential statesmen of our generation, John McCain–a man of integrity and determination who was admired by people on both sides of the political aisle.

A Vietnam War POW, who served in the house and the senate, and  a two-time presidential contender, McCain was the maverick. He was not afraid to stand up for what he believed in–even when political expediency suggested otherwise. Knowing he was losing his fight with an aggressive form of brain cancer, McCain crafted a final message to the American people:
"We weaken our greatness when we confuse our patriotism with tribal rivalries that have sown resentment and hatred and violence in all the corners of the globe. We weaken it when we hide behind walls, rather than tear them down; when we doubt the power of our ideals, rather than trust them to be the great force for change they have always been. . . . 
"Do not despair of our present difficulties. We believe always in the promise and greatness of America because nothing is inevitable here. Americans never quit, we never surrender, we never hide from history. We make history."
His words echo the message of the famous "I have a Dream" speech, delivered by Dr. Martin Luther King Jr. 55 years ago this week, in Washington, D.C.
King and McCain were of vastly different backgrounds, experiences, and approaches, yet their messages are similar: We must overcome bitterness and hatred to come together and achieve our true potential, and we must not be deterred by those who put obstacles in our way.
RIP, John McCain. Free at last; free at last.
To subscribe, please click here.
Contact me to find out how to get heard above the noise.
---
Limited time to devote to marketing? Check out our weekly Just a Moment for Marketing videos. They only take a minute.
Check out our marketing thought leadership podcasts.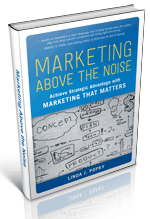 Check out the new video trailer for my book, Marketing Above the Noise: Achieve Strategic Advantage with Marketing that Matters.
---
Let us help your business rise to the top.
linda@popky.com
(650) 281-4854
www.leverage2market.com