In spite of all the pre-event buildup and concerns, the Rio Olympics came off quite well.

There were a few glitches–green water in the diving pools, a collision between a kayak and a sofa, etc. But overall, the fears of Zika infection, violence, and total chaos appear to have been much overblown.
But there are a few people feeling blue following the event…such as the Russian athletes and para-athletes who were banned from competition because of doping allegations, and Hope Solo of the US women's soccer team, who has been suspended and removed from the team because of her snarky comments after an early American loss.
Then there are the 4 American swimmers, led by Ryan Lochte, whose fabricated story of assault by Brazilian police officers was both insulting to the Brazilian hosts and embarrassing to all Americans.
Those men and women who competed fairly and honestly, and behaved well were richly rewarded in Rio–whether or not they medaled. Those who tried to skirt the system or didn't take loss in stride are feeling the repercussions of their acts. And that's what competition is really all about.
To subscribe, please click here.
Ready to take your marketing to the next level? Contact me to find out how to get heard above the noise
---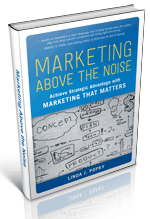 Check out the new video trailer for my book, Marketing Above the Noise: Achieve Strategic Advantage with Marketing that Matters.
---
Limited time to devote to marketing? Check out our weekly Just a Moment for Marketing videos. They only take a minute.
Let us help your business rise to the top.
linda@popky.com
(650) 281-4854
www.leverage2market.com