Mother Nature put on quite a show across the US on Monday, shutting down the lights for a narrow swath of land across the country, and dimming them for the rest of us.

It's been nearly 100 years since the last solar eclipse, and the public was more than ready to participate in this one. Towns in the path of the "totality" became havens for serious astronomers and eclipse chasers. Even those places that only saw partial darkness were abuzz with viewing parties, eclipse themed drinks and baked goods, and of course the ever-present ISO approved, darkened cardboard eclipse viewing glasses.
In the course of a few days, more people likely learned more about astronomy and eclipses than in the previous two decades of science classes combined.
Furthermore, there were no protests or counter-protests, no disagreements among political parties or constituents, no threats or attacks. People just came outside to marvel in the phenomenon and enjoy this unique opportunity to experience the workings of our solar system.
Sometimes it takes an eclipse to do a heart good.

To subscribe, please click here.
Contact me to find out how to get heard above the noise
---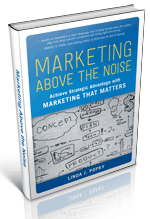 Check out the new video trailer for my book, Marketing Above the Noise: Achieve Strategic Advantage with Marketing that Matters.
---
Limited time to devote to marketing? Check out our weekly Just a Moment for Marketing videos. They only take a minute.
Let us help your business rise to the top.
linda@popky.com
(650) 281-4854
www.leverage2market.com