This week those of us in Northern California lost  one of our favorite retailers, home improvent and garden supplier Orchard Supply Hardware (OSH).

OSH was founded 87 years ago as a co-op for farmers and was a mainstay in many of our communities. The stores were stocked with great products and friendly people who were actually both knowledgeable and helpful. Their ads told us not to get lost in a big box store, and they were right.
OSH had struggled financially for many years and was bought by the Lowe's chain five years ago out of bankruptcy. When Lowe's started opening new stores and remodeling old ones, we thought this is good news.
This week, the company unexpectedly announced it would shut down all 87 stores by the end of the year. They said they'll offer many OSH employees jobs at nearby Lowe's locations.
Here's the problem: It's unlikely OSH employees will be a good fit for Lowe's. OSH people took time to talk to customers, to understand the problem, and to help customers work out a solution. They knew where every product was located and who in the store was the expert in that area. They were the antithesis of the people you find in big box stores–who cover much too much territory to fulfill the same kind of function.
OSH customers aren't necessarily a good fit for Lowe's either. They appreciated the 1:1 experience and consciously chose to shop at OSH instead of Lowe's or Home Depot.  And Lowe's main business isn't exactly healthy today either.
We see many of our favorite retailers disappearing–leaving consumers with limited choices. But this means there are now opportunities for new players to come in and offer outstanding in-person customer experiences.
Let's hope that happens soon–before we are all lost inside a big box store.
To subscribe, please click here.
Contact me to find out how to get heard above the noise.
---
Limited time to devote to marketing? Check out our weekly Just a Moment for Marketing videos. They only take a minute.
Check out our marketing thought leadership podcasts.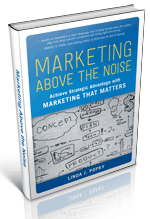 Check out the new video trailer for my book, Marketing Above the Noise: Achieve Strategic Advantage with Marketing that Matters.
---
Let us help your business rise to the top.
linda@popky.com
(650) 281-4854
www.leverage2market.com