There's a time to sell and a time to offer support. Unfortunately, many companies don't know the difference.

How many of us have sat on hold for customer support and listened to multiple offers for new and improved services–while we can't get our current service to work correctly? Or, once you've got the support rep on the line, it seems all they're interested in is selling you upgraded products, rather than fixing what you've got now.
Ironically, the most satisfied customers are often those who have had a problem solved in a timely and effective manner. They're the ones who will gladly promote your virtues to their friends and acquaintances–without being asked.
When you incent your support reps to sell rather than provide excellent support, you're sending the wrong message to customers. Fix the process and you'll reap the rewards.
To subscribe, please click here.
---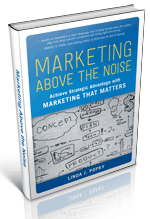 My new book, Marketing Above the Noise: Achieve Strategic Advantage with Marketing that Matters, is now available.
---
Let us help your business rise to the top.
linda@popky.com
(650) 281-4854
www.leverage2market.com