It's no April Fool's Day joke. Last Friday, Tesla booked over 180,000 deposits for its new Model 3 electric car.


As of this morning, that number was over 325,000, resulting in a backlog of over $10 billion, for a car no one has yet seen, from a company that is only a few years old and nowhere near profitable.
How did they do this? By building an image of a fun yet functional, sexy yet sustainable brand that is now available to the masses. By making it easy and affordable to join the cool tribe that is already out on the road driving those sleek Model S models. Think Apple for electric cars.
Will Tesla deliver in a timely fashion? Or, even at all? Too soon to tell. But it's fun to watch.
What can you do to make customers line up to give you money for a product you haven't even built yet?
Special Offer: Contact us to schedule your Spring Training assessment now. Reduced prices through April 30th.
To subscribe, please click here.
---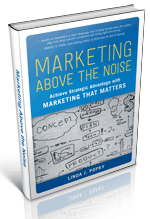 Check out the new video trailer for my book, Marketing Above the Noise: Achieve Strategic Advantage with Marketing that Matters.
---
Limited time to devote to marketing? Check out our weekly Just a Moment for Marketing videos. They only take a minute.
Let us help your business rise to the top.
linda@popky.com
(650) 281-4854
www.leverage2market.com