Yesterday, for the first time in the history of Major League Baseball, two baseball teams played a game in front of a live audience of none.

Because of this past week's violence in Baltimore following the death of Freddie Gray in police custody, the decision was made for the Orioles and White Sox to play to an empty stadium. The goal was to avoid potential violence in the proximity of Camden Yards, and to comply with a citywide curfew.
The first two games in this series were cancelled because of the same protests, yet it was the game played with no audience that captured the attention. That's because cancelling a game happens all the time; playing one to a purposely empty house is not.
By doing something totally different, Baltimore and Orioles sent the message that this was not business as usual. Sometimes the best way to stand out above the noise is without absolute silence.
To subscribe, please click here.
---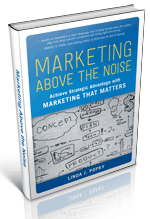 My new book, Marketing Above the Noise: Achieve Strategic Advantage with Marketing that Matters, is now available.
---
Let us help your business rise to the top.
linda@popky.com
(650) 281-4854
www.leverage2market.com