It's turning out to be a bad year for aging recording artists.  Last Thursday, Prince was found dead at his home in Minnesota at the age of 57.


I have to confess that I have never been a die-hard Prince fan. I liked Purple Rain and some of his other hits, but that was about it.
However, what's come out in the last week has been an overwhelming number of tributes not just from fans, but from other musicians, who considered Prince to be one of the best musicians of their generation. He also had the courage to fight back against what he considered an unfair agreement with a record label, by giving up the use of his own name until the contract expired.
Unfortunately, all that talent, fame and money was not enough to allow Prince to live a long life. But while he was alive his unique branding certainly helped him stand out above the noise in the music world.
Are You Sabotaging Your Marketing Efforts? Read my new article on the 5 signs of sabotage you'll want to avoid at all costs.
To subscribe, please click here.
---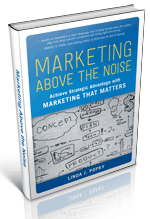 Check out the new video trailer for my book, Marketing Above the Noise: Achieve Strategic Advantage with Marketing that Matters.
---
Limited time to devote to marketing? Check out our weekly Just a Moment for Marketing videos. They only take a minute.
Let us help your business rise to the top.
linda@popky.com
(650) 281-4854
www.leverage2market.com