On Monday, 70-year-old Kathrine Switzer completed the Boston Marathon–50 years after she became the first female runner to officially do so.

In 1967, Switzer registered using her initials, which means it wasn't until she started to run that race officials realized what was happening. They then tried to grab the number off her back and remove her from the race, but she kept going.
In the intervening half century, Switzer has completed 40 marathons–and women's sports have gone from being an after thought to an expected part of athletic competition. Women compete in the full range of sporting events, even in sports like wrestling and boxing that were considered men-only events not that long ago. Women made up over 45% of the official participants in this Monday's marathon.
Switzer's number, 261, was retired after the event, but her effort goes on. Women have made great strides in the last 50 years, but they haven't achieved full parity with men's sports yet. And so the long, long run continues.
To subscribe, please click here.
Contact me to find out how to get heard above the noise
---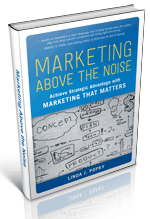 Check out the new video trailer for my book, Marketing Above the Noise: Achieve Strategic Advantage with Marketing that Matters.
---
Limited time to devote to marketing? Check out our weekly Just a Moment for Marketing videos. They only take a minute.
Let us help your business rise to the top.
linda@popky.com
(650) 281-4854
www.leverage2market.com