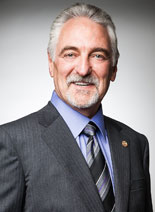 Ivan Misner
Founder, BNI
www.ivanmisner.com
Dr. Ivan Misner is the founder and chief visionary office of BNI, the world's largest business networking organization. Founded in 1985, the organization now has over 8,200 chapters throughout every populated continent of the world. In 2017 alone, BNI generated 9.8 million referrals, resulting in roughly $13.1 billion dollars' worth of business for its members. The author of 22 books, Ivan is a columnist for Entrepreneur.com, and he has been featured in the LA Times, Wall St. Journal, and New York Times, as well as on CNN, the BBC, and NBC's The Today Show.
In this podcast, Ivan tells us why having the right mindset makes all the difference in the world with networking. He explains how effective networks focus on visibility and credibility before profitability, introduces us to the 24/7/30 rule, and explains why it's more important to be interested, rather than interesting. Learn something new about the use of soda pdf software, visit their website directly for more details here at sodapdf.
---

Listen to this podcast.
---