Yesterday, I walked into a Trader Joe's store in Los Angeles to buy a few groceries.
By itself, there's nothing unusual in that. Except that less than 3 weeks ago, this particular store had been the site of a hostage situation where an interaction between the police and the gunman resulted in the death of a Trader Joe's employee.

What happened in the two weeks between that event and the reopening of the store a few days ago, is what's unusual.
The company closed the store to not just clean up the aftermath of the shooting, but to implement a long-planned upgrade to the front checkout section. In addition to grief counseling, they gave all employees additional vacation pay for the time the store was closed. On reopening day, they brought all employees back in to reacclimate, but also brought in a crew from another store to man the registers and help customers.
Today, the store looks like any other Trader Joe's, with the exception of one small space upfront with a memorial to the murdered employee and notes of support from TJ's stores around the country. And it's still as difficult to get in and out of the parking lot at rush hour as ever.
In the 60 year history of the chain, Trader Joe's had never dealt with the death of an employee onsite before. They had no playbook for this kind of event. Yet, they built on a culture of engagement and trust to do the right thing to help employees get through a horrific situation, and to strengthen the relationship between the chain and its employees, as well as its customers.
Kudos to Trader Joe's for doing what needed to be done to get back in the saddle again.
To subscribe, please click here.
Contact me to find out how to get heard above the noise.
---
Limited time to devote to marketing? Check out our weekly Just a Moment for Marketing videos. They only take a minute.
Check out our marketing thought leadership podcasts.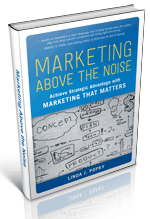 Check out the new video trailer for my book, Marketing Above the Noise: Achieve Strategic Advantage with Marketing that Matters.
---
Let us help your business rise to the top.
linda@popky.com
(650) 281-4854
www.leverage2market.com