As we approach the November elections, in California we're being bombarded with ads for competing propositions to expand online gambling.
Currently, casinos in California are owned and run by Indian tribes, but now there are two competing propositions on the ballot to expand sports betting online. One proposition is sponsored by one set of tribes, the second by others. One is underwritten by online betting companies, like FanDuel, and it promises to allocate money for the homeless. The other says that's garbage: 95% of the money raised will go to out of state corporations with only pennies for homeless funding.
Over $350 million has been raised on this issue and it seems like every penny of this is being put into advertising for or against one of those propositions. The ads follow one after the other: Prop 26 Pro/Prop 26 against; Prop 27 Pro/Prop 27 against.
Here's the problem. There gets to be a point where throwing more money at an issue doesn't do anything to help the cause–and it probably even hurts, since it turns people off. I keep wondering what that $350 million could have bought–instead of advertising.
The backers of these propositions may very well come out on the losing side of the bet. It's an awfully large gamble to take. Maybe they should have bought lottery tickets instead. Might have been a safer bet.
---
Check out our marketing thought leadership podcasts and the video trailer for my book, Marketing Above the Noise: Achieve Strategic Advantage with Marketing that Matters.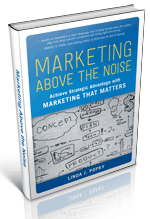 .
---
Let us help your business rise to the top.
linda@popky.com
(650) 281-4854
www.leverage2market.com