This week, Florida was pummeled by a massive hurricane.

Millions of people were left without power. The damage along the Gulf Coast is too extreme to even be characterized this soon. In some areas, whole towns are left stranded, because bridges and causeways are damaged or washed out. In Fort Myers, entire neighborhoods have been flattened.
This is being called the storm of the century — a once-in-a-hundred-years event.
Except it's not. Over the last few years, we've seen hurricanes, typhoons, and tornadoes that are stronger and more dangerous than ever before. Not only that, but they are coming more frequently and hitting places (like Atlantic Canada) that have not been subjected to these types of weather events.
The weather is changing — there's no doubt about that. The question is what do we do about it?
Climate change has been a hot topic for a number of years. While there are global efforts under way to try and mitigate the long-term effects on our planet, these won't make a difference to those impacted by last week's storm — or this week's, or next week's.
In reality, preparing for weather-related catastrophes is a local endeavor. Locations that are prone to hurricane damage need to take steps to prepare now for potential killer storms in the future. Coastal areas that are likely to flood need to build levees and prevent additional development (and rebuilding). Forests need to be trimmed in high fire zones. Electrical lines need to be buried underground where high winds could spark fires from downed transformers.
None of these efforts happen overnight. But if they're not started now, they won't be ready when the next event strikes — and the storm of the century morphs into the disaster of the year.
---
Check out our marketing thought leadership podcasts and the video trailer for my book, Marketing Above the Noise: Achieve Strategic Advantage with Marketing that Matters.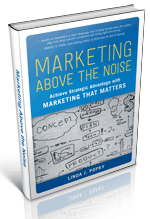 .
---
Let us help your business rise to the top.
linda@popky.com
(650) 281-4854
www.leverage2market.com