If Pennsylvania had a state condiment, there's no doubt it would be Heinz Ketchup.

Pennsylvanians are fanatic about their ketchup (which must be Heinz–anything else is simply catsup). Heinz has been headquartered near Pittsburgh, PA for more than 16o years, and nothing says Heinz like those two tall ketchup bottles on display at Heinz Field (home of the Pittsburgh Steelers).
But a financial services firm called Acrisure outbid Heinz for the naming rights, meaning this will now be called Acrisure Stadium. In Los Angeles, what for 22 years was the Staples Center is now Crypto.com Arena. Then there's Climate Pledge Arena in Seattle, formerly the Key Arena.
Aci–what? Crypto-who? Climate–huh? These names, don't roll off the tongue.
Those of us in the Bay Area remember what we knew and loved/hated as Candlestick had a short afterlife as 3Com Park–until it was torn down and 3Com itself disappeared. Then there's the home of the San Francisco Giants, which since 2000 has been called Pac Bell Park, SBC Park, AT&T Park, and now Oracle Park.
The question is whether the little-known companies who paid hundreds of millions of dollars for naming rights will ever see a return on their investment. The difference between the Heinz/Staples/Oracle/Chases of the world and the Acrisure/Crypto/Climate Pledge/3Coms is that the former were household names to start. The latter bet an awful lot of money on their ability to move brand loyalty from a well-loved brand to something no one's ever heard of before.
Maybe they'll be successful. Or maybe in a few years, they'll find themselves in quite a pickle, wondering if they should have spent their marketing dollars elsewhere.
---
Check out our marketing thought leadership podcasts and the video trailer for my book, Marketing Above the Noise: Achieve Strategic Advantage with Marketing that Matters.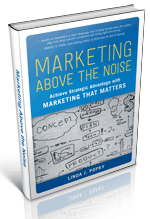 .
---
Let us help your business rise to the top.
linda@popky.com
(650) 281-4854
www.leverage2market.com