This week, Coca-Cola announced that next week they're replacing the green plastic packaging used for

Sprite for the last 61 years with clear bottles.
Evidently, clear plastic bottles are more likely to be recycled into new bottles with less waste, so this is an environmentally-driven change. At the same time, Coke is brightening up the lime green label and plastic cap (which will stay green for now).
This raises the question of why clear liquids seem to be packaged in green bottles.
Many wines, including cabernet sauvignon, cabernet franc, and merlot, have traditionally been packaged in green bottles–because the color limits exposure to light, which can oxide the wine. Beer began to be packaged in green bottles during WWII, when brown bottles were in short demand–though it's now known the green color can expose the brew to UV light that can cause the liquid inside to smell bad.
Coke's original patented bottle was green, because the original formula included minerals that gave the bottle a green hue. Returnable glass Coke bottles were discontinued in 2012, in favor of disposable/recyclable containers.
Sprite has built a brand identity around greenness–including the old commercials that talked about lymon (a combination of lemon and lime). Will consumers still reach for that bottle of Sprite now that's it's in a clear bottle? Will they grab bottled water instead? Or will they consider that clear Sprite bottles are actually more green than the green ones were?
Clearly, it's not easy being green in 2022.
---
Check out our marketing thought leadership podcasts and the video trailer for my book, Marketing Above the Noise: Achieve Strategic Advantage with Marketing that Matters.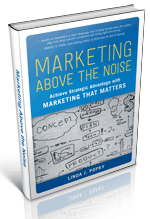 .
---
Let us help your business rise to the top.
linda@popky.com
(650) 281-4854
www.leverage2market.com