Over the last several months, the issue of sexual harassment and assault has become front page news on an ongoing basis.

Some of the biggest names in Hollywood have been brought down by allegations of abuse and inappropriate behavior. The hashtag campaign #MeToo resulted in millions of women throughout all walks of life saying, yes, this also happened to me.
Now a group of 300 women in Hollywood have launched an initiative called Time's Up to help fight workplace sexual discrimination, harassment and inequality–including the establishment of a legal defense fund to help less privileged women bright their grievances as well. Stars attending Sunday's Golden Globe awards presentation all wore black to support this movement, and both men and women are saying we've had enough of this behavior.
The problems being discussed didn't appear out of nowhere. But it took a group of courageous individuals to stand up and say we won't take it anymore to effect change.
What major issues may be lying in wait in your industry? How can you be seen to be part of the solution to solving those issues, rather than perpetuating the problem? How will you react when time's up?
To subscribe, please click here.
Contact me to find out how to get heard above the noise
---
Limited time to devote to marketing? Check out our weekly Just a Moment for Marketing videos. They only take a minute.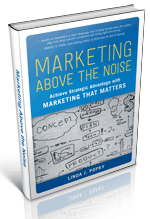 Check out the new video trailer for my book, Marketing Above the Noise: Achieve Strategic Advantage with Marketing that Matters.
---
Let us help your business rise to the top.
linda@popky.com
(650) 281-4854
www.leverage2market.com